アクアワールド&ホテルプール

ゴージャスなホテルプールには、リラクゼーションやアドベンチャーのエリアがあります。 プールにはラウンジチェアとカバナが並び、くつろいだお客様の間をぬってスタッフのウエイターが、カクテルからホットドックまですべてお届けします。 反対側ではまったく新しいプレイエリアのアクアワールドが、お客様のグループからチャレンジャーをお待ちしています。
小さなお子様は、わくわくするような水の流れや子供用プールで遊び、もう少し年上の元気なお子様は、海賊船の水鉄砲の順番を争って過ごすに違いありません。 大きなお子様や、子供の心を持つ皆さまは、ウォータースライドやスリルある飛び込みを気に入っていただけることでしょう。

PARENTS / GUARDIANS MUST FOLLOW THE FOLLOWING RULES:
Children must be supervised in and around the swimming pools at all times.
Children under the height of 1.4 meters must wear arm bands or life vests at all times.
Children without these safety devices will not be allowed in or around the pool deck area.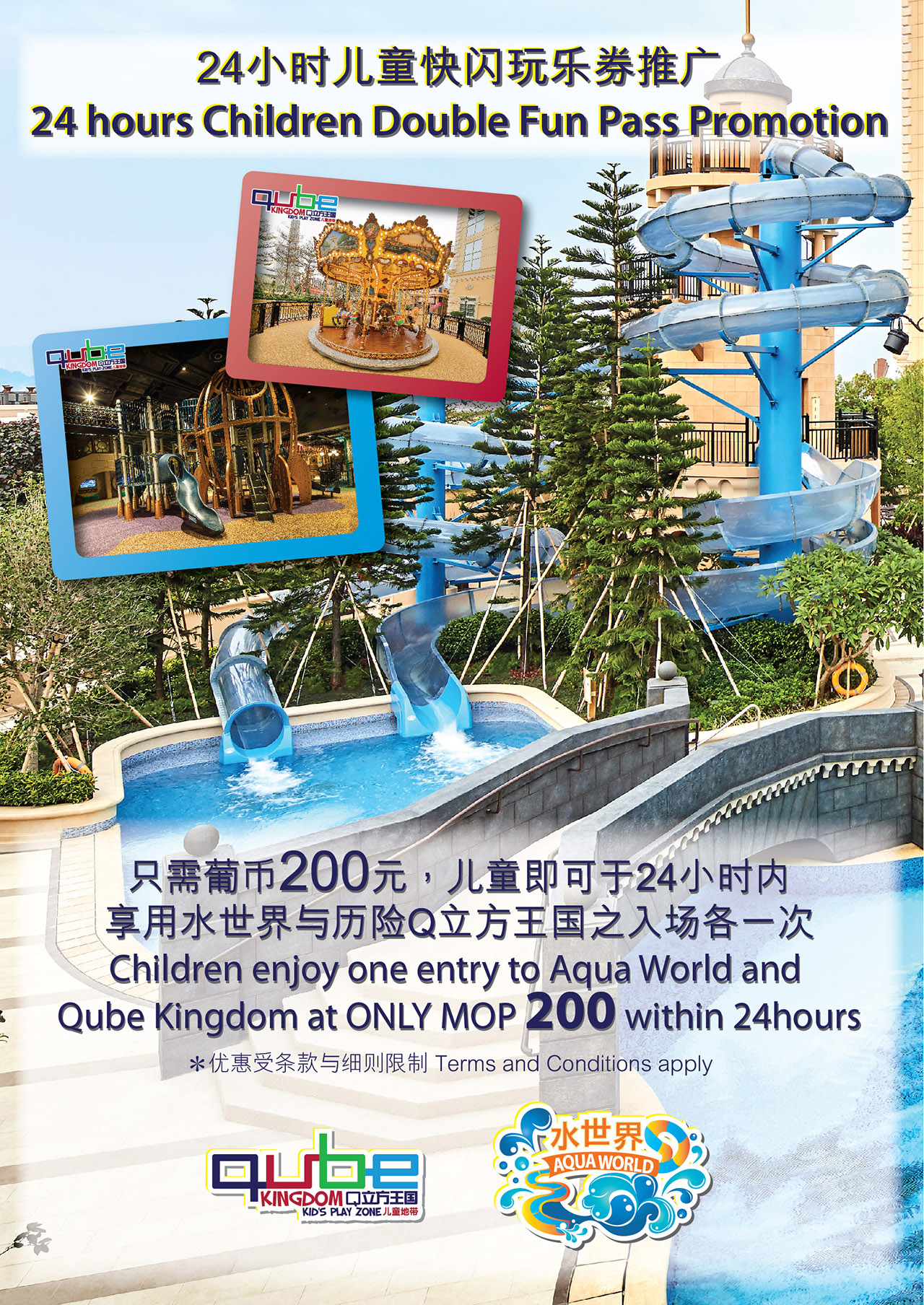 Promotion details:
This Fun Pass is available for child over 1 year old and below 18 years old

Maximum 2 guardians / adult can enjoy discount price at MOP80 per person to accompany the child to enter Aqua World with the pass

Qube Kingdom entry is for 2 hours while Aqua World is no time limit per entry within the operation hour

Terms and Conditions apply
Free Eiffel Tower Entry and Aqua World Special Offer for Hotel Guests

Hotel guests staying at The Parisian Macao from now till 19 December 2018 will enjoy free entry to Eiffel Tower 7/F and Aqua World Buy 1 Get 1 Free offers
Terms & Conditions Apply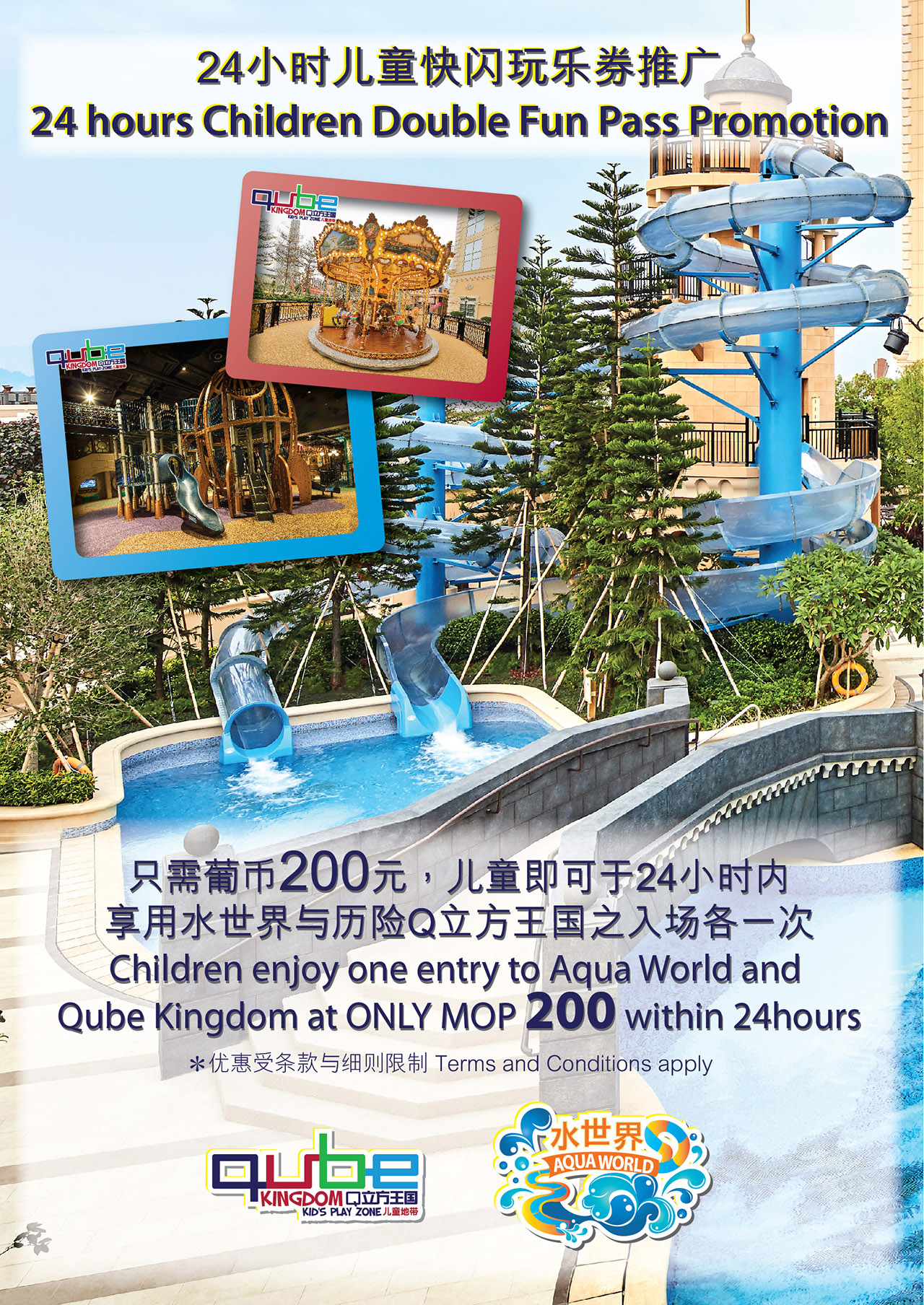 Promotion details:
This Fun Pass is available for child over 1 year old and below 18 years old

Maximum 2 guardians / adult can enjoy discount price at MOP80 per person to accompany the child to enter Aqua World with the pass

Qube Kingdom entry is for 2 hours while Aqua World is no time limit per entry within the operation hour

Terms and Conditions apply
Free Eiffel Tower Entry and Aqua World Special Offer for Hotel Guests

Hotel guests staying at The Parisian Macao from now till 19 December 2018 will enjoy free entry to Eiffel Tower 7/F and Aqua World Buy 1 Get 1 Free offers
Terms & Conditions Apply
ご案内
場所:6階
Opening Hours:
Aqua World: Daily 10:00am to 6:00pm
Hotel Pool: Daily 7:00am to 8:00pm

料金:
アクアワールド
160マカオパタカ(1名様)
ファミリーパッケージ(3名様をご購入いただくと、もう1名様分が無料):480マカオパタカ(1日あたり)
ホテルプール
ホテルにご宿泊のお客様は入場無料です
*アクアワールド(Aqua World)のご利用には入場料が必要です。ホテルにご宿泊のお客様はチケットを10%割引でお買い求めいただけます(ファミリーパッケージは割引対象外です)。