デラックスルーム(Deluxe Room) - Parisianライフを満喫
---
 33平方メートル / キングベッド1台またはクイーンベッド2台 / 大人2名様
Deluxe Roomのドアを開けると、そこにはパリの一部のような空間が広がります。贅沢な寝具類が用意されたベッドや充実したミニバー、当ホテルオリジナルのシャンプーやローションを備えたエレガントなバスルームを完備したお部屋で心ゆくまでおくつろぎください。


有線および無線の高速インターネット



充実したミニバー



無料シャトルバス



コネクティングルームをご用意
CHECK AVAILABILITY >
---
Take Your Time
- Early check-in, late check-out
Enjoy more time in Macao by checking in to your hotel earlier and leaving later. For as little as
HKD150++
you can check in as early as
10am
and check out as late as
4pm
. Simply contact the hotel reservations office 24 hours prior to arrival and let them know you wish to participate in the "Take Your Time" program.
For more details, please contact:
+853 2882 8827
---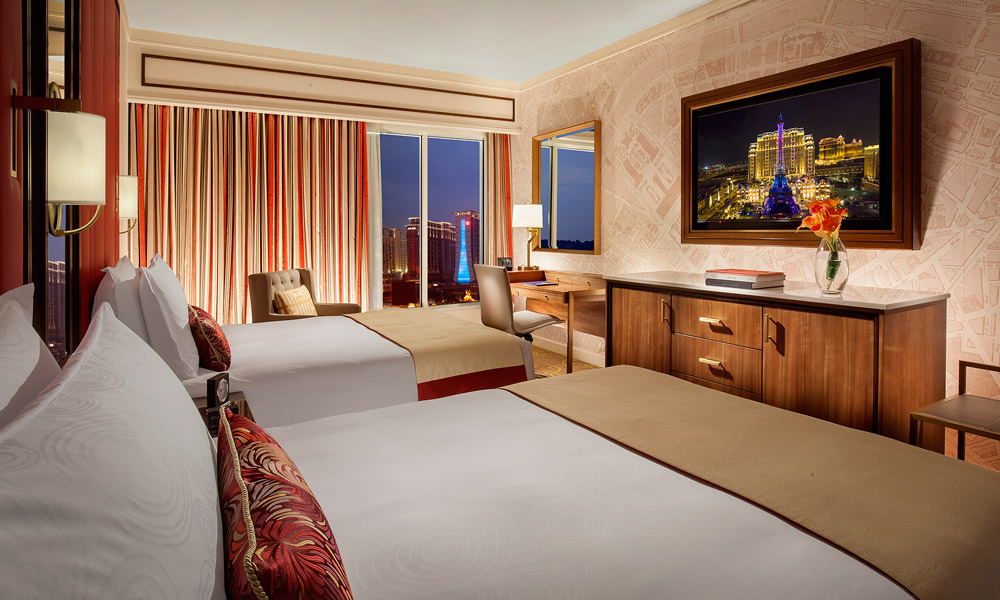 Guests Reviews
---
"Excellent service from this hotel"
 June, 2017 
So satisfied for my stay in Parisian Hotel. All the staff were so friendly, helpful and knowledgeable special thanks to ms. Sara. She provided excellent services... MORE >
---
"A hotel fit for royalty"
 May, 2017 
A very posh hotel that is located along all the other newer and bigger hotels in Macau, designed for luxury. The feeling that you'll get here is extremely pampered... MORE >

These reviews are the subjective opinions of individual travelers and not of TripAdvisor LLC nor of its partners.
© 2017 TripAdvisor LLC
Why Book Direct at ParisianMacao.com?



Inside Your Room

33平方メートル
定員大人2名様
キングサイズベッド1台、またはクイーンサイズベッド2台
7~29階
スタンダードビュー
喫煙または禁煙の客室を選択可能
コネクティングルーム(要リクエスト)
追加料金で1名追加可能
エキストラベッドなし

シャワーとバスタブを備えたバスルーム
充実したミニバー
The Parisian Macaoオリジナルバス製品
55インチハイビジョンテレビ
ワードローブ
室内金庫
ヘアドライヤー
アイロンとアイロン台
Included with Your Stay

無線および有線の無料インターネットアクセス
チェックイン午後3時、チェックアウト午前11時

ホテルのプールのご利用
ヘルスクラブのご利用
Sands Cotai Stripの850店以上の店舗